Bienvenido a Hempstead Ford
Aproveche las ofertas actuales de este mes
Estamos aquí para usted
¡Hempstead Ford siempre pone a los clientes en primer lugar!
No tome nuestra palabra para ello: Lea nuestras evaluaciones y ver lo que todo el mundo está diciendo.
Always a pleasant, no pressure experience at HFL. They have good pricing, kind courteous and knowledgable staff. After sales support continues, bith by sales staff and service dept.
Never bought a car before and was kind of dreading the process .Did not want to hear " what would it take for you to drive out with this beauty ?!" Met JC Crescenzo with this big smile and easy way and it was like dealing with a Friend . No Pressure, No Fast Talking , No Hard Sale . Spoke with Me & My Wife = Got the SALE , on a Continental I've wanted all my life . Came back the following week and the entire Team had us in and out ! Great Experience , My Complements - Bob Scanlon
I recently brought my Corsair in for the works service package and met Rich Fiedler. Rich reviewed the cars history. The vehicle was purchased and always serviced at HLF. Rich noted that there were 2 recalls, the seatbelt recall he advised would be completed at this service apt the parts were not in for the other recall but we would be contacted when parts were in. Rich had a calm nature and we added the cabin filter to the service needed. I discussed my service points and Rich applied them. Overall I had a pleasant experience working with Rich. He provided an estimate for the work to be completed. As promised I received the text message that the work was complete. I was able to pay the bill online expediting the pickup. At pickup I was asked if I wanted the car washed. All in all a great experience with an experienced pleasant service advisor. Another reason why I have been a customer since 1989. Thanks Rich! Nice job
Dan Locicero (a sales consultant) and John Smisek(sales manager) for a pleasure to deal with. They were absolutely no sales pressure tactics ever used. The sales visit consisted of an assessment of needs and desires with a matching of a suggested product. It is always a very pleasant experience in this dealership. After the sale, there continues to be self support and service support.
I just bought my first car at Hempstead Ford Lincoln and they were awesome! They made the process really easy and Stan Peddle, the Sales specialist, walked me through a lot of options and he helped me to find the perfect one!! After I found the car that I wanted to purchase he took care of the whole bureaucratic part, which was super helpful. I definitely recommend Hempstead Ford Lincoln and Stan Peddle.
Our family has used Rick as our salesperson for well over 10 years and we have always had a great relationship. When we have any other issues with our lease or service we have been able to reach out to Rick and his team has been there for us- fair deals for Ford and our family-
My sales rep was awesome - JC is the best!!! Was the easiest and seamless experience at the dealership.
Very professional. Everyone treats you nice at this dealer. I had been with Carter for many many years. He is a very nice and respectful person who is always there to help you when you need him.
Brought my Navigator in as the power running board wasn't working. Even though it's under warranty, this is scary as the repair is very expensive. Richard Fiedler was very pleasant and efficient throughout the repair. While it did take several days before they had a service person available to look at the car, once they did, the repair was done overnight. Communication from Rich was outstanding throughout and, whew, it was covered under the warranty. Finally checkout by Rich was 150% more pleasant and efficient than with the (fortunately) no longer existing "Cashier's Office", who were always difficult at best.
Had a 60,000 mile inspection on vehicle, John Lydon went over all services that was going to be performed and the cost of the service, also was given a nice loaner
My 2018 Expedition just came back from being out of service for 17 WEEKS. What started with an ordinary recall became an ordeal because of the unavailability of a few key parts (a one-time-use bolt and nut, and a valve cover). The loss of use of my truck for a ridiculous length of time couldn't have been more frustrating and inconvenient! But Karen Wunderlich and the folks at Hempstead Ford Service couldn't have been nicer (and I know it's not their fault.) They provided me with a beautiful 2021 Lincoln Nautilus loaner at no charge from Day One. They kept me informed as to the status with periodic calls. Once the bolts and nuts came in for the transmission, the service crew was able to craft a temporary repair on the valve cover to get me going until a new one arrives (@Ford Supply Chain, could you step it up please?). Along the way they replaced the battery, and the hood latch, and even washed and vacuumed the truck, so when I finally got to pick it up, it was like getting into a new ride! My smile has returned (I love my truck, and am very happy with Hempstead Ford Service)! And by the way, no charge to me other than the warranty deductible. Thank you very much!
This dealership is very nice and clean. Friendly employees and they try all they can do to keep you happy and satisfied.
Thank you so much John Talt for getting me into my 3rd Ford Explorer. The kids and I love it! Always keeping us safe on the road!!! Safety FIRST!!!! I am definitely a Ford family!!
Dennis Cullen was professional , knowledgeable ,enjoyable and efficient The Over buying experience was excellent and all were very accommodating
Great dealership. I was helped by Dan Locicero and he truly went out of his way to help me on every single aspect of the vehicle and talked to me on the phone for hours for few times went over the details of my car. He even went beyond his way giving me financial advices that I needed. Very recommended dealership. Good job.
Stan did an excellent job. He made the process seamless and wasn't the least bit pushy!
Great service by John & paperwork with Dan L. All went efficiently & smoothly. Thank you for all your help & service.
My sales rep Dennis Cullen was a great help they honored msrp and the price drop. I would definitely recommend him and the dealer to my family and friends.
They honored the msrp and also honored the recent price drop on the Mach e. Dennis was really helpful and I would definitely recommend him and this dealer to mg family and friends.
I recently purchased a 2022 Lincoln Corsair Grand Touring at Hempstead Ford Lincoln. My experience purchasing a Lincoln at Hempstead Ford Lincoln could not have been better had it not been for one salesman - Dan Locicero. Dan is an exemplary, professional, and perhaps one of the most knowledgeable salesmen at Lincoln. Dan Locicero took the extra step at EVERY turn imaginable and I left the lot ecstatic with my purchase. In fact, days before the purchase, Dan took the initiative, himself, to help get all the paperwork in order by working with my insurance broker while I was away on vacation so that the day of purchase would go smoothly. And it did. Moreover, Dan spent countless amounts of time going over the features in the vehicle and the LincolnWay application on my phone so that I could seamlessly enjoy my Lincoln Corsair. Dan has far exceeded my expectations that I have encouraged my brother, who trusts me for guidance, to visit Dan Locicero, specifically, at Hempstead Ford to look to purchase a Ford F150. Because I want my brother to be confident that he is in capable hands when purchasing his next vehicle. I thank everyone at Hempstead Lincoln Ford for both this great experience and purchase.
Outstanding effort, including salesperson Evan Bouchaud, to "make a deal"and satisfy the customer both as to vehicle and price. Lincoln almost lost me as a customer after 30 years, but Evan retained our business. Note also that Service Dept (I am a repeat Lincoln customer) is outstanding
Extremely professional and accommodating experience. No hard sell or bait and switch. Easy process. Plenty of inventory to choose from. Highly recommended.
We wanted to order a new Ford Ranger and went to Hempstead Ford to start the process. John Talt walked us through each step of the process with courtesy, knowledge and professionalism. He remained in contact with us during each step of the order and subsequent build. He made the car buying process smooth and easy and was always available to speak with is and patiently answer the numerous questions that we have. We are thrilled with our new truck and extremely pleased with John Talt and Hempstead Ford.
we have been dealing with Hempstead Ford for over 20 years and always have come out totally satisfied with our experience ... our Salesman Frank Romeo has been there from the start and sold us our first Ford and the many more after he has always made himself available to us even on his day off he always goes above and beyond to make sure we are happy with out purchase ... John the Manager has always been wonderful working with us to be sure we always get the best deal available ... I would recommend Hempstead Ford to anyone looking for a pleasant experience when buying a new Vehicle
Thanks to Evan for a smooth transition into my new Nautilus. Very professional. Explained everything in a concise and understandable manner.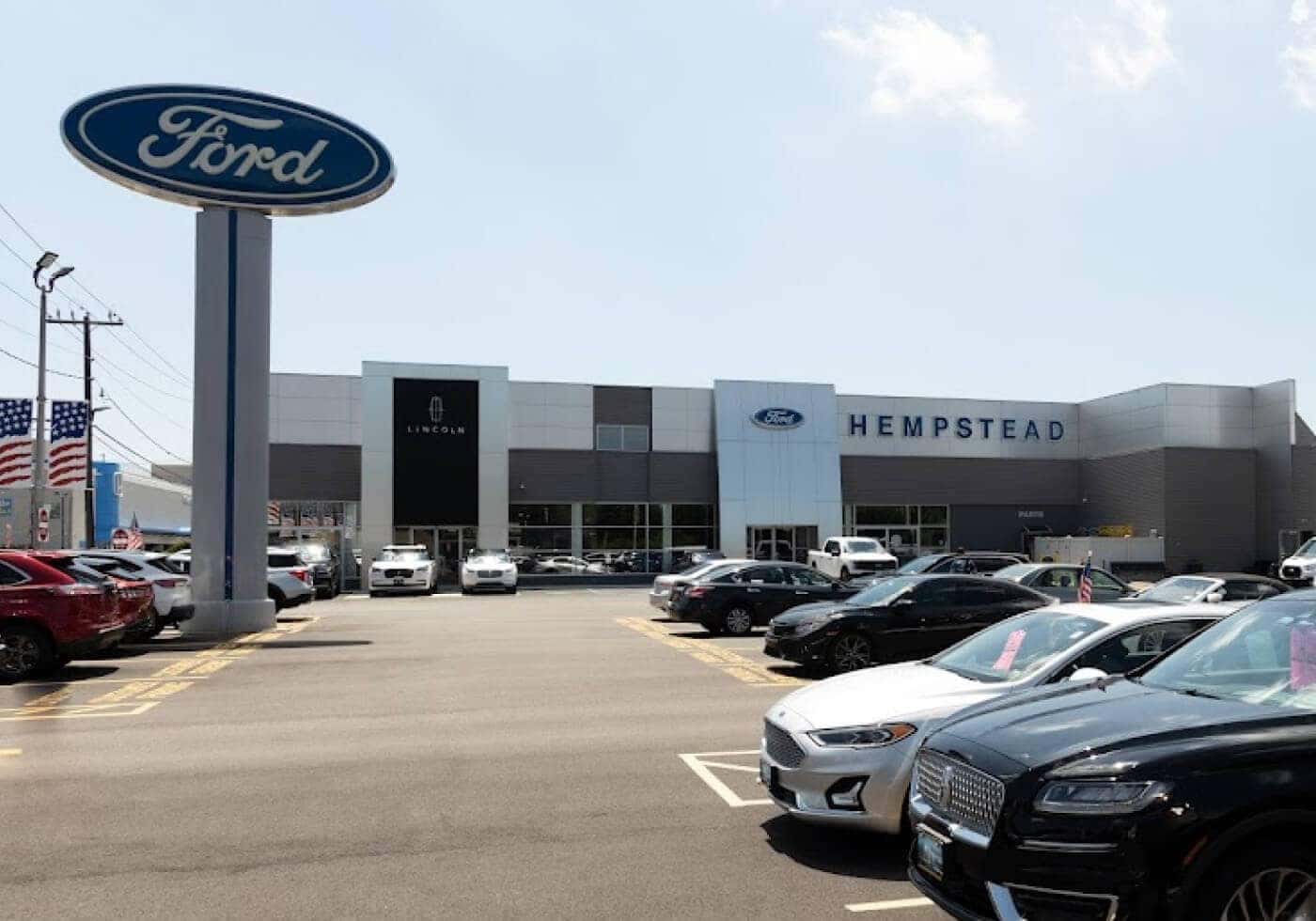 Obtener indicaciones para llegar a nuestro concesionario
Bienvenidos a Hempstead Ford
Sirviendo a toda el área metropolitana de Nueva York, incluyendo Garden City NY, Freeport NY, Elmont NY y Floral Park NY
Al comprar un nuevo Ford en el área de Hempstead, NY, ¡no podrá comparar el servicio al cliente ni la selección de Hempstead Ford! Nuestra sala de exhibición está repleta con los nuevos modelos Ford Explorer, Escape, Edge, EcoSport, F-150 2021-2022 y otros grandes modelos Ford. También puede personalizar su pedido en su nuevo Ford en Hempstead, NY, con el color, el equipamiento y las características avanzadas que se ajusten a sus necesidades específicas. Si desea conocer todo lo que pueda sobre su siguiente automóvil, pida una prueba de manejo a Hempstead Ford para ponerse detrás del volante. De esta forma, puede tomar una decisión verdaderamente informada sobre su próximo automóvil.
Gente de las áreas Hempstead, Floral Park, Garden City, Freeport y Elmont en Nueva York puede contarle que el concesionario Hempstead Ford es el lugar al que hay que ir para conseguir el nuevo Ford Bronco Sport, Mustang Mach-E, Edge, Ranger, F-150 2022 o uno de nuestros muchos modelos Ford, que usted está buscando. Hempstead Ford le brindará una mano amiga en la que puede confiar. Sin importar el servicio, sus necesidades son nuestra prioridad y haremos todo lo posible para asegurarnos que se vaya con una sonrisa. Porque aunque lo que vendemos es vehículos, nuestro negocio es la satisfacción del cliente.
Contacte con nosotros