Welcome to Hempstead Ford
Take Advantage of This Month's Current Offers
We're Here For You
Hempstead Ford always puts customers first!
Don't take our word for it: Read our reviews and see what everyone is saying.
The entire team does a fantastic job!! Willing to help in any way possible and very professional. Delivery of new vehicle was great, thanks John for the awesome job!!!
The best expierence purchasing a vehicle very nice and friendly people , I really apreciate they take care of me thanks Dennis.
Evan is the quintessential professional! No pressure- very experienced and pleasant! Five stars across the board for Evan!
Stan was an excellent and most patient sales representative, my husband and I have ever had the pleasure to do business with. He thoroughly explained everything, from the car model, the extras, and the process of the purchase. We were very happy with the experience had.
My car buying experience with Hempstead Ford, and specifically Eric Roseman, was smooth and transparent. I was treated courteously every time I contacted them. They answered all of my questions, and worked to alleviate any concerns that I had. Eric Roseman executes tasks with thoughtfulness, with consideration to the customer's needs and wants. Very easy, pleasant, and professional people to work with. I will not hesitate to use them again for future Ford vehicle purchases.
Love this place!! All the guys are nice and will inform you about any questions you have. Also didnt have to wait at all. Great place!!
Dimitri from Hempstead Ford Lincoln went above and beyond while helping us look for our new car. He was very courteous and explained everything above an beyond from every button in the car to the process to lease the Corsair. It was an amazing experience.
Dennis C was a pleasure to work with. I wanted to but out the lease on my Ford Fusion. Every other dealership added any where from 500 to over 1000 dollars in processing fees. Dennis was super professional and dang fees were extremely reasonable.
Chris is excellent, he has a good sense of sale and a very professional manner.
Great all around. Frank Romeo in particular. The service and courtesy shown were very good.
our experience was an excellent one in every aspect and we would most definitely recommend the dealership and everyone involved
Working with Thomas Montagnono for F150 powerboost special order. My wife and I have purchased 8 new vehicles from Maryland to Pennsylvania. This is the best experience we have had buying a new vehicle. Thomas Montagnono is very professional and knowledgeable. Did not try to sell us anything we not need. No nonsense or BS. Will recommend Thomas Montagnono and Hempstead Ford.
Been going to Hempstead Forf for over 20 yeasts great service and and see your excellent service advisor John Lydon thank you !!
john is great even though it took a year to get my Maverick john did his best to keep me informed.
The manager John and my salesperson Thomas were excellent. I payed 0% markup when other dealers were charging 10k over msrp. They gave me zero haggle fair value on my trade-in as well. They were always available to answer my questions. I love my new F-150 lightning. Dave T.
Excellent service. I would highly recommend the Hempstead Ford Lincoln to everyone. Mr. Richard Fiedler kept me informed during the time I was waiting for the service to be done ---Disappointed that the part took almost 1 week to to be received. Thank you Mr. Fiedler for your assistance, and Thank you the Lincoln Service Department for the work done. Sincerely , Maria D'Urso
Carter is a true professional and veteran of the business. He made sure all my needs were taken care of.
Excellent service. I would recommend Frank Romeo to everyone.. He treated my wife and I with kindness and courtesy.
Karen Wunderlich is always so professional and helpful. She and the Hempstead Ford Service Department provide excellent service.
I just picked up my Ford Lightning, wow what a truck, Hempstead Ford made the process so easy from my salesman Chris Deo great person to work with so easy to deal with, also the business manager wasn't pushy it was a great buying experience,I will definitely be recommending Hempstead Ford to all of my Family and Friends,I just found my new dealer I will be buying from them again, also did I mention they are a honest dealership they charged me MSRP not one penny over thank you for everything.
John Berto and his team were great to work with. The best car buying experience I've had. Highly recommended! No gimmicks, no hidden fees, straight up and transparent.
Dimitri was fantastic! He made everything smooth and easy and I would recommend everyone go to him.
2nd year on my lease of the Lincoln Nautilus. Had scheduled oil change last week. The entire process of scheduling an appointment, getting the oil change, tires rotated and multi point inspection took less than an hour. Best of all, received a free car wash. Great, great, great.
John Berto was fantastic to work with! Overall the best experience I've ever had buying a car.
This is my 5th lease with John Berto. I always come back because we feel he is Trustworthy and very knowledgeable. We will return to see John at the end of this lease and recommend him to family and friends.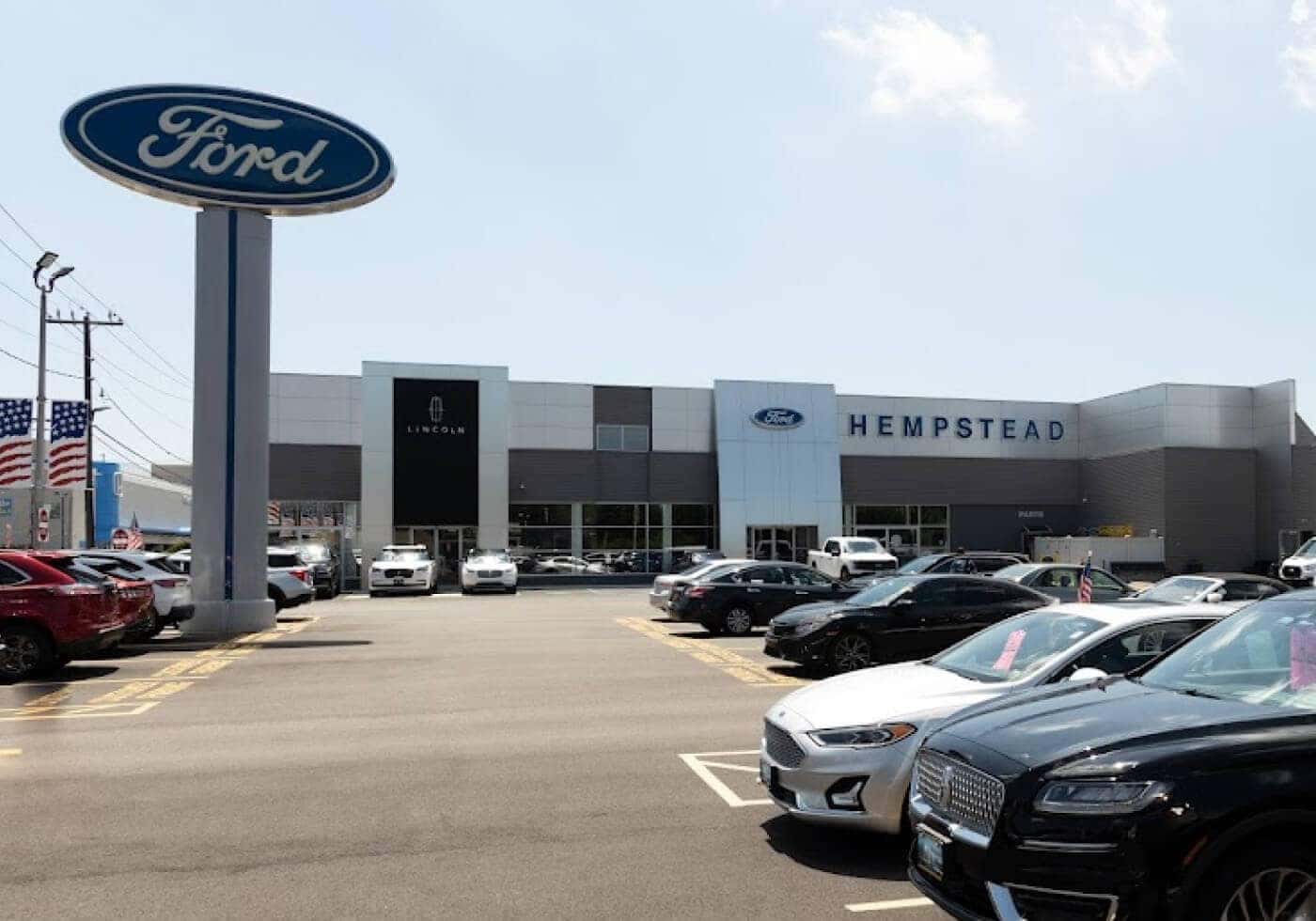 Get Directions To Our Dealership
Welcome to Hempstead Ford
Serving the entire New York Metro area including, Garden City NY, Freeport NY, Elmont NY and Floral Park NY
When shopping for a new Ford in the Hempstead, NY area, you cannot beat Hempstead Ford's customer service or selection! Our showroom is stocked with new 2021 - 2022 Ford Explorer, Escape, Edge, EcoSport, F-150 and other great Ford models. You can also custom order your new Ford in Hempstead, NY with the color, trim & advanced features to fit your specific needs. If you want to learn everything you can about your next car, ask Hempstead Ford to get behind the wheel for a test drive. This way, you can make a truly informed decision about your next car.
People from all over the Hempstead NY, Floral Park NY, Garden City NY, Freeport NY, and Elmont area NY, can tell you that Hempstead Ford's dealership is the place to go for the new 2022 Ford Bronco Sport, Mustang Mach-E, Edge, Ranger, F-150 or one of our several other Ford models, that you are looking for. Hempstead Ford will provide you with a helping hand you can rely on. No matter the service, your needs are our priority and we'll do our absolute best to ensure you leave with a smile. Because even though vehicles are what we sell, customer satisfaction is our business.
Contact Us