Welcome to Hempstead Ford
Take Advantage of This Month's Current Offers
We're Here For You
Hempstead Ford always puts customers first!
Don't take our word for it: Read our reviews and see what everyone is saying.
Very good and helpful from sales to service department Will be using them again soon Rich was very helpful
I took my car in for service. My parts were ordered for the following day and I received my vehicle back on time. Service center was prompt and updated me with the process
Stan Peddle is the best. I have gone back to him now twice to buy a pre-owned car. He is a straight shooter and easy to deal with. Very good service. Thank you Stan!
Great dealership! Have been leasing cars from this dealership for many years and have been very satisfied!
Arrived on time they did what I have to do with the car less than an hour. Everything was taken care of. Charlie was an excellent manager took care of everything all my needs very helpful.
Karen was the best. She is very patient , courteous . and knowledgeable. She is definitely an asset to Hempstead Lincoln Ford. I hope is is recognized and appreciated.
Terrific service and great people!
Great experience. Easy and friendly team and our sales rep, John, was fantastic. Will be going back in future.
Hempstead Ford is by far the best. Another positive experience this week with great treatment and communication from John Lydon. I will continue to use and recommend the Hempstead Ford Team!
This dealership has given me the best used car buying experience that I ever had. Alot of their cars that they had for sell; they were a beauty. They were all in mint condition. I did my due diligence on the internet to pick out the car that I wanted, and my first stop was over here. I was blessed to have been hooked up with such an awesome amazing Sales Consultant name Carmine Randello. Remember his name if you ever go there to buy a car. He was a very likable person. He made me feel comfortable and I never felt any pressure coming out of him. Carmine walked me through all the information details about the vehicle that I picked out ahead of time and how to operate everything on it as well. Their finance department that I went through was a nice experience as well. They did not try to pressure me or bombard me to buy any of their extended warranties or whatever else they had to sell. They gave me some pamphlets with the quotes on it and was ready to answer any questions if I had any. It was easy peasy and my salesman didn't even want to accept the sales tip that I wanted to give him for my appreciation of his expertise and service that he had given me. I highly recommend this dealership if you want to go through a rewarding car buying experience and drive out with the car of your dream.
I am very pleased with the service I received from Hempstead Ford. Their service of pick up and drop off, is one of the best options I've ever experienced. Their drivers were courteous and very respectful of my concern as well as the vehicle. My repairs were attended to quickly and the vehicle was returned. Great Service Hempstead.
Stanley Peddle is an excellent salesman, attentive, great communication, trustworthy, eveything went smoothly, thank you so much for helping me get the car I wanted .
Hempstead Ford service department exceeded my expectations. They are friendly and experts about what my car needed. They explained everything in detail in advance. They were able to repair my foot brake release during my appointment. They tuned up my car, changed the fluids, filter etc and did the inspection.
Far better dealing with Hempstead than another dealer in Wantagh. Stan Peddle was knowledgeable. informative and a pleasure to work with.
The people who work at this dealership are great to work with. JC is the best!!! Highly recommend this dealership for anyone looking to purchase/lease a Ford vehicle.
Great service very fast did what I ask them keep me up to date with the process
Service writer John was very helpful and prompt
Had an excellent experience purchasing my new vehicle. My salesperson, John Talt, was awesome -- highly recommend asking for him --thanks again for making the experience so easy.
Transparent, provide great service and there fave me many options to purchase /lease without any hard sell. I would highly recommend and use again. John Talt was excellent.
Fast and The Best Car Service!!!!❤️🙌🏽
Service to my vehicle was exemplary. Hempstead Ford picked up my vehicle, serviced it in a timely manner and returned it without delay. Thumbs up to the department for their proffesionalism.
Very courteous and helpful
This is probably over my 15th car I have purchased or leased here. JC is great! Even when moving one of my purchases from Ford to Lincoln, JC set me up with Karen and was involved from purchase to service to lease end. Just picked up my new ride. Thanks for all you do JC & Team..
Always professional and courteous behavior. Xxxx xxxx xxxx xxxx xxxx xxxx xxxx xxxx xxxx xxxx
I am very pleased with the Hempstead Ford personnel that took care of me and repaired on my Ford Focus. Bring in your car and having the work done is a very easy and non-stressful process. They do a great job and on a timely fashion as they promised. I recommend that you bring your car into Hempstead Ford dealership if you need to get work done on your car that is guaranteed. Instead of bring it to a gas station that a lot of times doesn't know what they're doing and does a lousy job. I also had purchased two used cars at Hempstead Ford dealership which were a very pleasant experience and still have them today.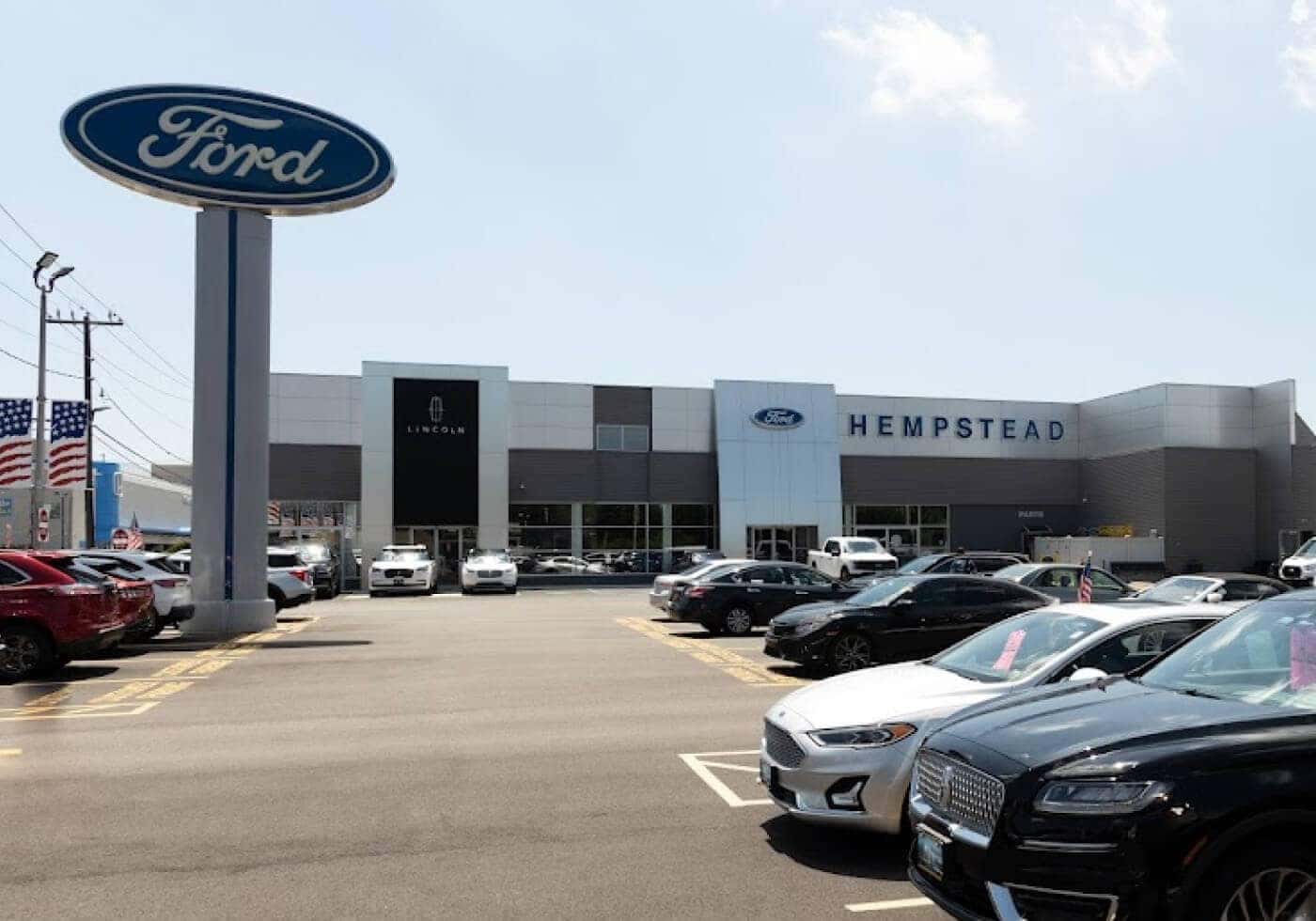 Get Directions To Our Dealership
Welcome to Hempstead Ford
Serving the entire New York Metro area including, Garden City NY, Freeport NY, Elmont NY and Floral Park NY
When shopping for a new Ford in the Hempstead, NY area, you cannot beat Hempstead Ford's customer service or selection! Our showroom is stocked with brand new Ford Explorer, Escape, Edge, EcoSport, F-150 and other great Ford models. You can also custom order your new Ford in Hempstead, NY with the color, trim & advanced features to fit your specific needs. If you want to learn everything you can about your next car, ask Hempstead Ford to get behind the wheel for a test drive. This way, you can make a truly informed decision about your next car.
People from all over the Hempstead NY, Floral Park NY, Garden City NY, Freeport NY, and Elmont area NY, can tell you that Hempstead Ford's dealership is the place to go for the new 2022 Ford Bronco Sport, Mustang Mach-E, Edge, Ranger, F-150 or one of our several other Ford models, that you are looking for. Hempstead Ford will provide you with a helping hand you can rely on. No matter the service, your needs are our priority and we'll do our absolute best to ensure you leave with a smile. Because even though vehicles are what we sell, customer satisfaction is our business.
Contact Us