Welcome to Hempstead Ford
Take Advantage of This Month's Current Offers
We're Here For You
Hempstead Ford always puts customers first!
Don't take our word for it: Read our reviews and see what everyone is saying.
Outstanding effort, including salesperson Evan Bouchaud, to "make a deal"and satisfy the customer both as to vehicle and price. Lincoln almost lost me as a customer after 30 years, but Evan retained our business. Note also that Service Dept (I am a repeat Lincoln customer) is outstanding
Extremely professional and accommodating experience. No hard sell or bait and switch. Easy process. Plenty of inventory to choose from. Highly recommended.
We wanted to order a new Ford Ranger and went to Hempstead Ford to start the process. John Talt walked us through each step of the process with courtesy, knowledge and professionalism. He remained in contact with us during each step of the order and subsequent build. He made the car buying process smooth and easy and was always available to speak with is and patiently answer the numerous questions that we have. We are thrilled with our new truck and extremely pleased with John Talt and Hempstead Ford.
we have been dealing with Hempstead Ford for over 20 years and always have come out totally satisfied with our experience ... our Salesman Frank Romeo has been there from the start and sold us our first Ford and the many more after he has always made himself available to us even on his day off he always goes above and beyond to make sure we are happy with out purchase ... John the Manager has always been wonderful working with us to be sure we always get the best deal available ... I would recommend Hempstead Ford to anyone looking for a pleasant experience when buying a new Vehicle
Thanks to Evan for a smooth transition into my new Nautilus. Very professional. Explained everything in a concise and understandable manner.
Thanks to Evan Boucaud my purchase was smooth and easy. I purchased my first Lincoln after a long history with Lexus and I could not be happier. Hempstead Lincoln has a large in-stock inventory so I was able to test drive a few options prior to making my decision.
This is my first brand new vehicle always pre owned I have never been to a dealer where I wasn't shuffled around and oh let me bring this person over .This was the best experience I've had bye far Thomas montagnino was great from start of deal to finish my daughter went with me and even she was entertained A++ all around.Loving new F-150 Powerboost
Rick and the entire staff are straightforward and honest people. Completely pleasurable experience dealing with them. Highly recommend the dealership.
We would like to thank Evan Boucaud of Hempstead Ford Lincoln, located at 301 N. Franklin St., Hempstead, NY for his professionalism and kind manner as he navigated us through the journey of choosing our next vehicle. Evan's extensive knowledge of the products and willingness to take the time to find exactly what we needed and exactly what we wanted, turned the process into one that was stress and anxiety free. We walked into the dealership on Saturday and on Monday we drove away in our beautiful, brand-new Lincoln! Shelly & Gil Balanoff
We are very pleased with the purchase of our Bronco from beginning to end. This is the fastest, I have ever bought a car. Rick, was very helpful in every step. Everyone made it easy and pleasant experience.
Excellent experience with service. I was a little concerned that there are no schedulers or assistants for billing, but the new system where the service advisor takes the payment, was very, very efficient. Seamless experience from start to finish. Service was performed quickly and expertly as I waited - only about 1.5 hours for a NYS Inspection, Oil Change and Tire rotation. Thank you for providing excellent service!
Hempstead Ford Lincoln has the best service department anywhere. There are a lot of other dealerships that cannot compete with them. Their service co-ordinaries are also the best. Karen Wunderlich and Charlie will do whatever they can to make your life easier. Proud to be a part of their family!
In the 30 years of leading, This was by far the easiest and best experiences I've had in leasing a car. Evan Bouchard was wonderful. He was professional and trustworthy and I would highly recommend him to anyone interested in getting a new Lincoln.
Sales and service have been great!! I would highly recommend Hempstead Lincoln. We live in Manhattan and they pick up and drop loaners at our garage.
The entire team does a fantastic job!! Willing to help in any way possible and very professional. Delivery of new vehicle was great, thanks John for the awesome job!!!
The best expierence purchasing a vehicle very nice and friendly people , I really apreciate they take care of me thanks Dennis.
Evan is the quintessential professional! No pressure- very experienced and pleasant! Five stars across the board for Evan!
Stan was an excellent and most patient sales representative, my husband and I have ever had the pleasure to do business with. He thoroughly explained everything, from the car model, the extras, and the process of the purchase. We were very happy with the experience had.
My car buying experience with Hempstead Ford, and specifically Eric Roseman, was smooth and transparent. I was treated courteously every time I contacted them. They answered all of my questions, and worked to alleviate any concerns that I had. Eric Roseman executes tasks with thoughtfulness, with consideration to the customer's needs and wants. Very easy, pleasant, and professional people to work with. I will not hesitate to use them again for future Ford vehicle purchases.
Love this place!! All the guys are nice and will inform you about any questions you have. Also didnt have to wait at all. Great place!!
Dimitri from Hempstead Ford Lincoln went above and beyond while helping us look for our new car. He was very courteous and explained everything above an beyond from every button in the car to the process to lease the Corsair. It was an amazing experience.
Dennis C was a pleasure to work with. I wanted to but out the lease on my Ford Fusion. Every other dealership added any where from 500 to over 1000 dollars in processing fees. Dennis was super professional and dang fees were extremely reasonable.
Chris is excellent, he has a good sense of sale and a very professional manner.
Great all around. Frank Romeo in particular. The service and courtesy shown were very good.
our experience was an excellent one in every aspect and we would most definitely recommend the dealership and everyone involved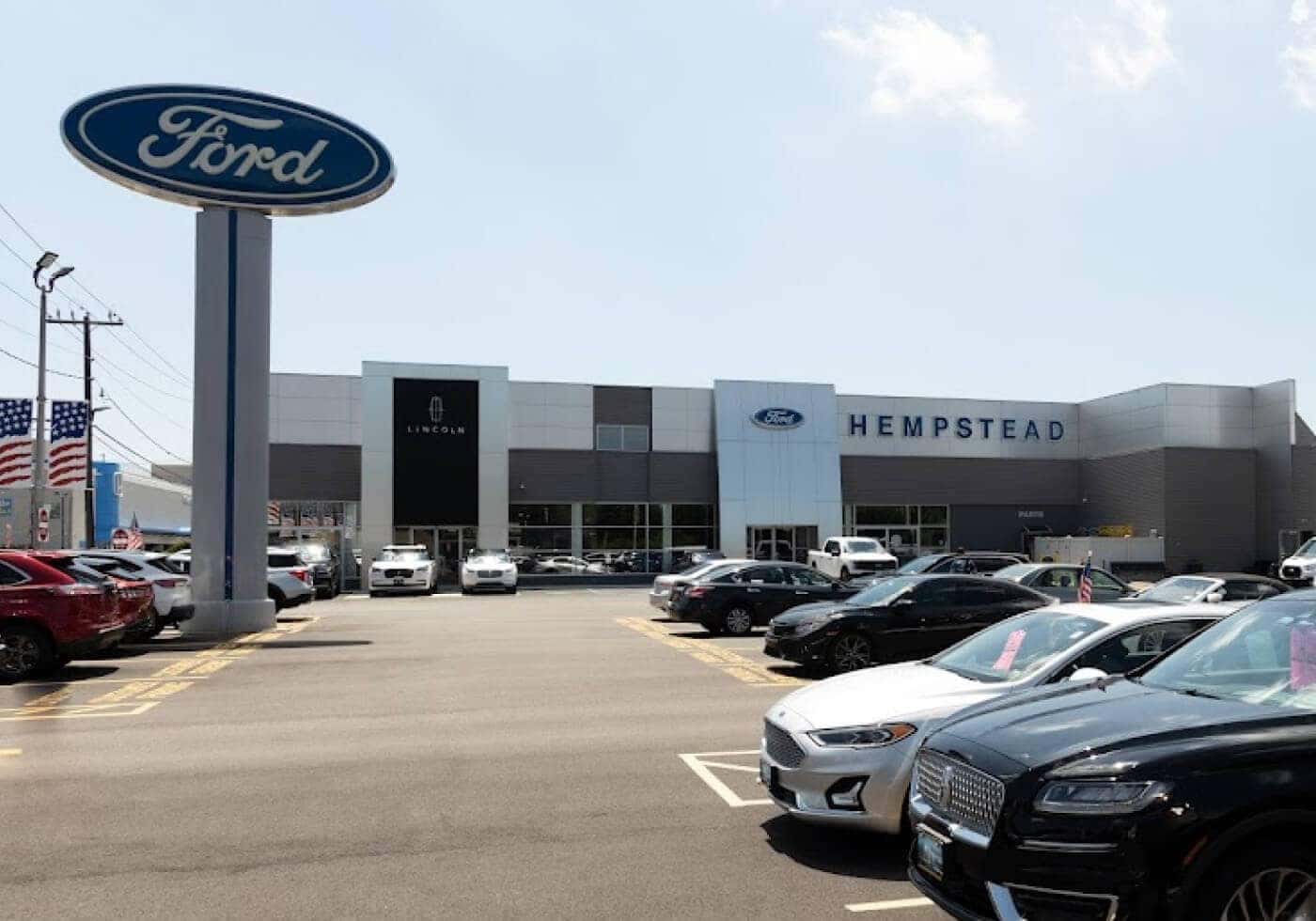 Get Directions To Our Dealership
Welcome to Hempstead Ford
Serving the entire New York Metro area including, Garden City NY, Freeport NY, Elmont NY and Floral Park NY
When shopping for a new Ford in the Hempstead, NY area, you cannot beat Hempstead Ford's customer service or selection! Our showroom is stocked with new 2021 - 2022 Ford Explorer, Escape, Edge, EcoSport, F-150 and other great Ford models. You can also custom order your new Ford in Hempstead, NY with the color, trim & advanced features to fit your specific needs. If you want to learn everything you can about your next car, ask Hempstead Ford to get behind the wheel for a test drive. This way, you can make a truly informed decision about your next car.
People from all over the Hempstead NY, Floral Park NY, Garden City NY, Freeport NY, and Elmont area NY, can tell you that Hempstead Ford's dealership is the place to go for the new 2022 Ford Bronco Sport, Mustang Mach-E, Edge, Ranger, F-150 or one of our several other Ford models, that you are looking for. Hempstead Ford will provide you with a helping hand you can rely on. No matter the service, your needs are our priority and we'll do our absolute best to ensure you leave with a smile. Because even though vehicles are what we sell, customer satisfaction is our business.
Contact Us